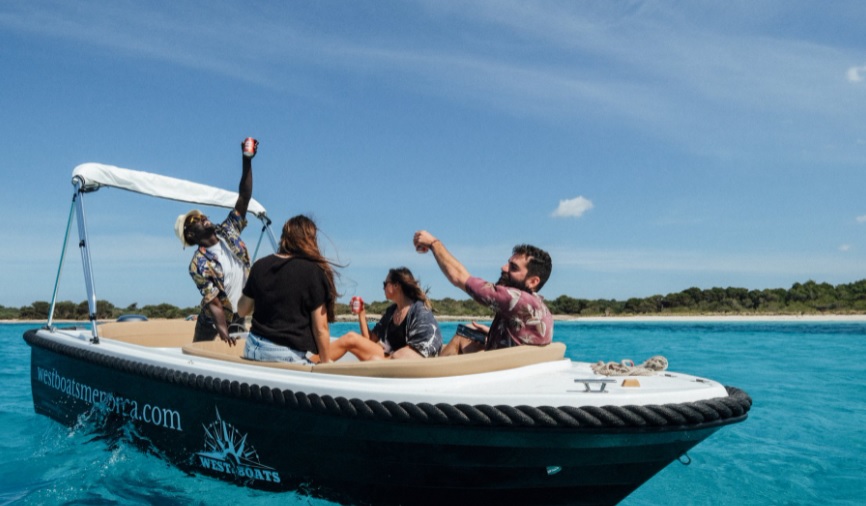 Discover the coast of Menorca sailing on your own at your own pace
Length: 5m | Capacity: 5 persons | Engine: 15cv
We offer you the opportunity to sail aboard a new fleet (year 2021) without qualifications. Departing from the port of Ciutadella, enjoy the most spectacular corners of Menorca and feel like a captain for a day. You will be able to discover the south coast, characterised by its fine white sand, or the north coast, with its dark, coarse sandy beaches.
Petrol included in the price.
The explanation of the route and the operation of the boat will take place 10 minutes before the agreed time for the delivery of the boat.
Punctuality is required at the time of arrival at the port at the end of the 8 hours. Otherwise there will be a penalty of 20€ for every 30 minutes delay.
Timetable: departure at 10:00h.
The boat includes: solarium, fridge, bimini top, GPS locator and ladder.
Cancellation policy: If due to weather conditions it is not possible to go sailing, the departure will be changed to another available day and if this is not possible, the amount will be refunded. Cancellations can be made free of charge up to 10 days prior to booking.
Prices
May
220,00€
June
250,00€
Sep-Oct
280,00€
July
290,00€
August
350,00€
Features

Price fluctuation
The base price may change depending on the time of the season when you want to book.
Location