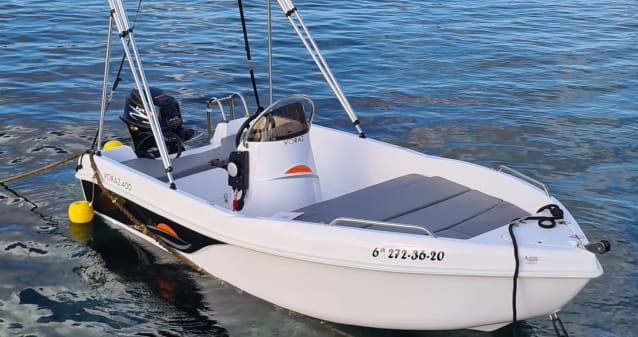 Discover a part of the coast by sailing on your own
Rent a boat without qualifications from Cala Torret or Calan Porter and discover the island at your own pace.
The boat is 4 meters long, has a power of 15 hp and capacity for 5 people.
It can be rented for full day, half day or sunset:
Full day: 10.00 h to 18.00 h.
Half day schedule: 10-14h or 14.30-18.30h (check availability)
Sunset timetable: 19 - 21h (approx.) check availability.
*Rates include VAT. Fuel NOT included in the price (cost according to consumption). Deposit not included (300 €)
All boats include:
Liability and occupants insurance (fully comprehensive with excess).

Awning

Fridge

Navigation map

Mat/solarium

Life jackets, first aid kit, signalling equipment, etc.
Optional: Snorkelling equipment (ask for price)
Prices
Price from Cala Torret
175,00€
Price from Cala en Porter
250,00€
Features

Timetable
This is the timetable you will find us in the office:

Price fluctuation
The base price may change depending on the time of the season when you want to book.